CASANOA MANOR
AN IMMACULATE LAND AT THE FOOT OF MONTE CANU
The CASANOA manor extends in the eastern part of Gallura, at the foot of Mount Canu, in sunny valleys, caressed by the mistral wind that blows from the Strait of Bonifacio. In this pure and wild place, of enchanting beauty, grow the CASANOA organic olive groves. Here the olives feed from the granite sands of Mount Canu, from the clays and fragrances of the Mediterranean scrub of the CASANOA valley and return an oil with an intense aroma, with a unique taste An oil in which all the essences of our pristine land have infiltrated such as the ones of myrtle, juniper, strawberry tree, mastic.
Our olives are still harvested by hand, following ancestral techniques that have been handed down through the centuries, and are processed with cold pressing, a technique thanks to which the organoleptic characteristics, the value of polyphenols and the antioxidant properties of our olive oil organic remain unchanged. Even the atmospheres and emotions of COSMERALDA fragrances are born here, from a passionate study of the natural scents of a land that feeds only on the essences of the Mediterranean scrub such as the ones of myrtle, juniper, arbustus mastic.
These elements meet and merge to give birth to a bouquet of unique olfactory accords and exclusive, authentic and wild scents, as well as our island The CASANOA organic extra virgin olive oil, naturally rich in polyphenols and vitamin E, is also the star ingredient of our cosmetic line of creams, soaps and 100% natural bath foams, and acts in synergy with the precious herbs such as the myrtle and the helichrysum, which grow spontaneously on our estate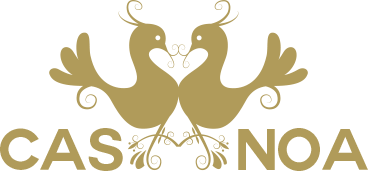 OUR SYMBOL
The lapwing is one of the most ancient symbols of Sardinian tradition. As documented by various sources, its origin dates far back, to around 534 A.D., when the island was under Byzantine rule. It is a very ancient talisman related to nature, and symbolises fertility and abundance, invoking rich harvests, heavy rains and health. In Sardinian tradition, lapwings are carved into nuptial chests containing the bride's dowry as a symbol of good luck and to wish the newly-weds fertility, wealth and health for their life together.